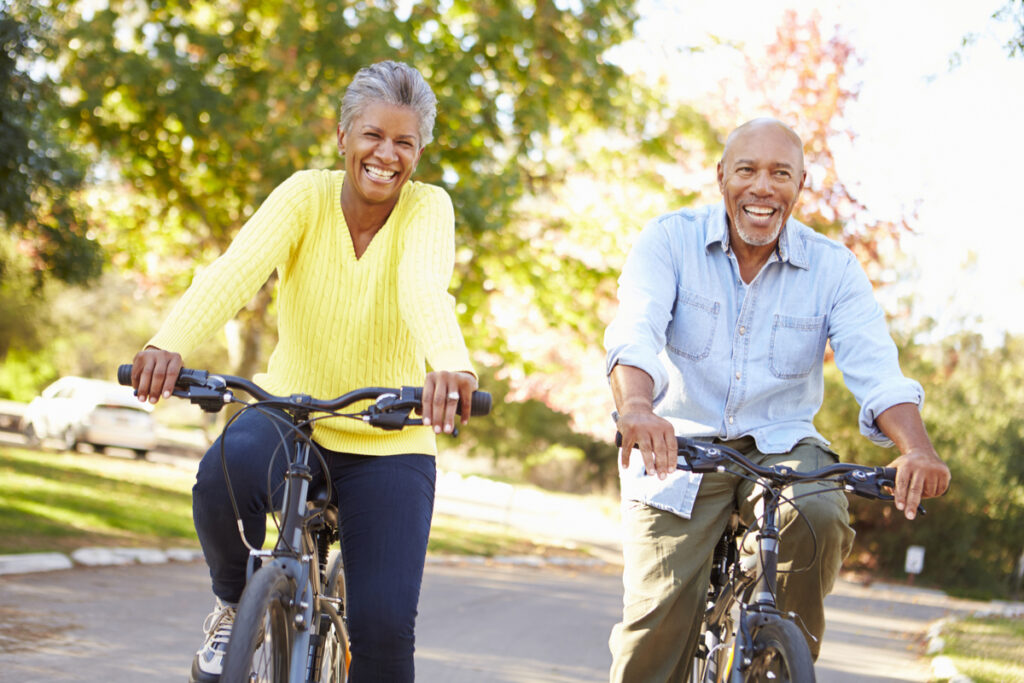 At some point in life, everyone will experience symptoms of brain aging. While your cognitive functioning may change as you get older, you can still take steps to keep your brain healthy as you age.
Tips for Maintaining a Healthy Brain
Exercise
As well as helping you to sleep and feel better and more energized, research shows that being active can also protect your brain by increasing blood flow, developing new nerve cells, and increasing the connections between brain cells. This makes your brain more efficient and adaptive as you age. As little as 30 minutes of activity a day can make a difference. And, simple lifestyle changes, like taking the stairs instead of the elevator or parking farther away from your destination, can contribute. Muscle-strengthening activities are also recommended. Don't give up if you don't have access to a gym; use household items, like soup cans or gallon jugs, to add resistance.
Eat a Healthy Diet
Eating healthy foods can impact your brain, as well as your heart and overall health. Vegetables, fruit, whole grains, nuts, fish, and lean meats have all been linked to better brain health, along with specific vitamins and nutrients, such as vitamin B. Replacing sugary foods with berries, dark leafy vegetables, and even dark chocolate will keep your brain functioning at its best.
Get Enough Sleep
With ever-growing busy schedules, it may be tempting to cut into your sleep every now and then, but this can have long-term effects on your health. Not getting enough sleep can impair how well you multi-task and think in creative ways, and lack of sleep can also affect memory and attention. Studies have shown that, during sleep, the brain clears a key protein associated with Alzheimer's disease, called amyloid, so sleep is vital to brain health. If you struggle with sleeping, try establishing a regular, calming bedtime routine, avoiding caffeine, nicotine, or alcohol close to bedtime, and limiting daytime napping.
Exercise Your Brain
When you think of brain exercises, puzzles and "brain games" probably come to mind. But, hobbies, volunteering, and other activities also keep the brain active. Social activities foster independence and relationships with friends and family. Try learning a new language, using your non-dominant hand more often, or even gardening. Staying engaged will help you stay sharp.
Stay Connected
Research has shown that an increased level of social activity is linked to a lower rate of cognitive decline. When you help organize and make plans, you enhance brain circuitry, thereby lowering your risk for dementia. Having strong social ties can help you live longer, so take a walk with a friend or use social media to stay connected. Many of the activities you might choose for the social aspect may also be part of an exercise program, which will benefit your overall health.
Reduce Stress
As stress has become more widely studied, its long-term ill effects on the brain, and learning and memory specifically, have become more evident. While it's not always possible to get rid of the stressors in your life, you can protect your brain with stress-reducing techniques such as meditation, yoga, or Tai Chi. Even if you have some skepticism about these mind-body techniques, it is important to recognize that they have been known to relieve symptoms of anxiety, depression, and insomnia. Such disciplines can help reduce the risk chronic stress has on your brain, along with setting clear boundaries with others, learning how to say "no," and modifying your expectations.
Control Modifiable Risk Factors
Age and genetics are two components of cognitive aging that are not within our control. However, many risk factors can be influenced by a healthy lifestyle, which includes treatment of conditions that affect brain health, such as diabetes, obesity, and depression. It is important to get medically treated for these to help modify their potential effects on brain aging.
Getting regular checkups and knowing your family medical history will give you an advantage. At The CRCNJ, we can help you take a proactive approach to your brain health. We offer no cost memory screenings to determine if you are at risk for an age-related problem with memory or other thinking skills. We also offer a Psychoeducational Series to empower patients and families with the information, support, and possible interventions they need to begin moderating brain health through modifiable risk factors.
Participate in Research
Getting involved in research studies can help you play a more active role in the health of your brain. Since there is no known cure for Alzheimer's disease or other forms of dementia, a research trial is the best way to gain access to experimental treatments and to contribute to our understanding and treatment of these disorders. Participation criteria differ from study to study and may be based on age, diagnosis, the severity of cognitive symptoms, and medical and treatment history. To find out if you qualify for one of our clinical trials, click here.
At The CRCNJ, we can help you take a proactive approach to your brain health through personalized treatments, comprehensive care, and resources unavailable anywhere else. To find out more, give us a call at 973-850-4622, or contact us here.