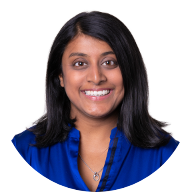 Kavita Doshi, M.A.
Clinical Research Coordinator
Kavita Doshi, M.A., M.S.Ed., is a Clinical Trial Coordinator with two Master's degrees, one in general psychology and another in school psychology. She supports, facilitates, and coordinates daily clinical trial activities. Kavita plays a leading role in the clinical trials conducted at The CRCNJ and has over 16 years of experience in Alzheimer's and dementia research.
What she appreciates most about her role at The CRCNJ is the opportunity to educate people about the importance of clinical trial participation.