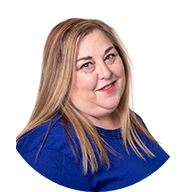 Daniela Schwab, M.B.A.
Operations Manager and Community Outreach
Daniela Schwab, M.B.A., serves as The CRCNJ's Community Outreach Specialist.
Her primary role is to help The CRCNJ build and maintain relationships with community members and organizations. Dani disseminates information about The CRCNJ to the public and helps schedule speaking engagements, free memory screenings, lunch-and-learns, and other events that raise awareness about The CRCNJ and issues related to the diagnosis and treatment of cognitive disorders. Daniela holds an MBA from University of Hartford and a BS in management from Carnegie Melon University.
She comes to The CRCNJ with years of experience in sales and product development, as well as an extensive history as a community volunteer, including serving on the board of Hearts for Emma, a New Jersey nonprofit corporation that provides aid to families of children with heart disease or transplantation.
Dani is committed to The CRCNJ and its mission to educate and raise awareness in the community about Alzheimer's disease and the urgent need for a cure.